Veterans Winning in Technology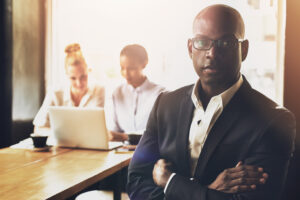 Ever since I began keeping note of  the latest trends, technology has grown exponentially. By the year 2020, computer occupations are expected to see an increase of 22 percent with some subcategories, like software development, growing by as much as 32 percent. Blame it on machine learning, Blockchain, the digitization of commercial enterprise, cloud adoption or consumer habits – the technology industry is booming and that means competition is fierce.
"The race for competitive advantage has led businesses everywhere to embrace the new and the cutting-edge. Many technologies are now coming into their own as their power and speed increase and the cost of delivering them goes down," explains Deloitte in its 2017 Technology Industry Outlook. "These so-called "exponentials," including robotics, virtual and augmented reality (VR) (AR), 3-D printing and artificial intelligence (AI), are opening up significant areas of opportunity." However, with these opportunities come the need to have people administer and manage those technologies so that guiding companies can be profitable.
For many technology companies, the solution has been to look to military veterans. For example, Microsoft has its Microsoft Software & Systems (MSSA) training program, which helps vets transition to civilian life while undergoing a 16-week IT training program. So far, around 30 percent of MSSA graduates get jobs at places like Microsoft, Amazon and the Department of Defense. "Veterans are exactly the type of talent we are looking for to evolve the face of IT beyond the traditional four-year degree," says Chris Cortez, VP of Military Affairs at Microsoft and himself a 33-year Marine vet. "They are trained to quickly assess, analyze and fix a situation with the resources at hand while working with a diverse group of people as a team. Who better to bring into the company to create a diverse and inclusive workforce, expand the way we solve problems and fuel creativity than folks who are adept in the skills that are incredibly applicable to the IT industry." Cisco also has a Veterans Program,
Microsoft was an early adopter of vet-specific training but they are just one of many companies moving into this space. Plus, military veterans in technology are not limited to workers. Roughly one out of ten businesses in the United States is owned by a vet and, according to the National Veteran-Owned Business Association (NaVOBA), a whopping seven out of ten people would prefer to buy from a vet-owned business. Some veteran-owned companies enjoying success in the tech space include the mobile app and website development company Tech From Vets, startup platform AngelList, online community builder Affinity Labs, business analysis company RedOwl Analytics and care coordination company UniteUS.